(1996 – 2008)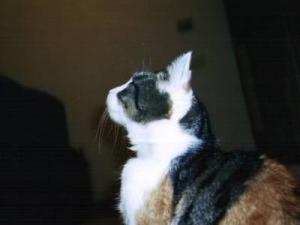 PERL was born on April 28, 1996 in the state of Virginia. She was originally bred to be a research animal and spent the first seven years of her life in a research lab at Texas A&M. Unlike all the other animals in our household, who were rescues that snuck into our lives, PERL was actively sought after by us and applied for. The process actually took about a year to complete.
We finally took her home in January 2003 from the research facility where she worked. Her past is something we don't share with a lot of people: suffice to say she was treated extremely well (better than most human graduate students) and even had her 15 minutes of fame.  We changed her name to the computer language,  ostensibly to protect her identity, but really it was so she could match our other geekily-named cats.  It's pronounced pearl or, given how loudly she purred, puuuurl.
While we prefer rescues, there is something to be said about good breeding. PERL turned out to be the friendliest, sweetest, most social cat in our household. She loved people, never nipped, and enjoyed the company of other cats and dogs. She was a relentless attention-seeker, always curled up by the side of a human and rubbing up against them to demand pets and affection.
After a few years with us, PERL was eventually annexed by Toli's sister, whose household cats (and humans) had fallen madly in love with her. We basically sent her there for petsitting while we were on a trip…and were persuaded to allow her stay.
She enjoyed several years with her cousins, Midnight and Rodeo, before Toli's sister discovered one day that PERL was having trouble walking. What we thought was just old age turned out to be bone cancer. She spent several months on steroids and painkillers, until the day came that we all as a family decided to accompany her to the vet for one last trip.  Words cannot express how much we miss her, but we are all thankful for the few years we had her in our lives.
Q&A with PERL
Below is a collection of images that we used to have running as a narrative by PERL on our old website. Christine has ported them to a gallery and preserved the commentary. Just click on one of the thumbnails to enlarge the picture, read the commentary, and navigate through the gallery.