(200? – 2007)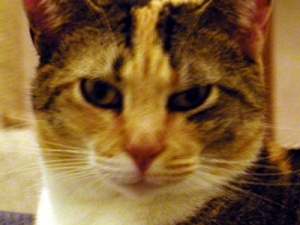 Pascal (full name: Pascal (Cat) Nguyen per our vet's records) was a stray female calico we took into our home in 2001. A neighbor found her at the site of her new home, trapped her in a cat trap, and was going to take her to the shelter, but we intercepted and then suddenly we had a cat in our house.
We named her after the computer language, which was fitting as she was a remarkably intelligent creature. She was the first cat we ever had the privilege of caring for (we soon learned that cats can never really be owned), and it wasn't until we adopted other felines that we realized just how uniquely sassy, smart, and independent she was. She saw through every kind of trick, obstacle or manipulation we attempted and was soon running the house.
Because she was semi-feral and didn't care much for the company of our other pets (which, ironically, we adopted because we had had such a great experience with her), Pascal never really became an indoor pet and spent a majority of her time outdoors.
In 2007, while we were on an extended business trip, our petsitter reported that she had disappeared and had stopped coming to the house for food. We also learned that during the same time period, a number of cats in the neighborhood had also vanished. We sadly concluded that she probably met an untimely demise at the paws of a coyote. But, this being Pascal, we are certain that there is a scarred and one-eyed coyote out there who regrets ever messing with her. We miss her terribly.
A Day in the Life of Pascal
Below is a collection of images that we used to have running as a narrative by Pascal on our old website. Christine has ported them to a gallery and preserved the commentary. Just click on one of the thumbnails to enlarge the picture, read the commentary, and navigate through the gallery.